The project, inspired by the concept of Integrated Relational Tourism, which aims at values such as culture, traditions and popular knowledge to tell and make the territory live to travelers, consists of an educational tour for communication experts, promoted by the Citrus Production District of Sicily to introduce the citrus fruit productions of the island to the foreign press.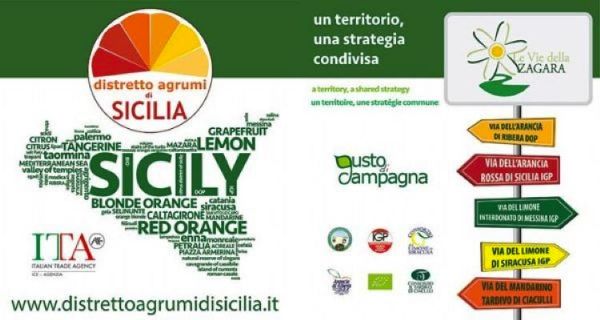 The Educational tour Integrated Relational Tourism Itineraries "Le vie della Zagara" was co-financed by the ICE (Foreign Trade Institute) and realized with the Gusto di Campagna Association and the concrete participation – in terms of hospitality and reception of journalists – of all the Consortia for the protection of PDO and IGP productions (Ribera Arancia, Sicilian Red Orange, Syracuse Lemon and Messina Interdonato Lemon) and Ciaculli Mandarino (Slow Food presidium awaiting recognition). Partners of the project were also numerous private companies of the Sicilian citrus sector that have joined the initiative.
From 14 to 17 April 2015, 13 journalists, experts in lifestyle, food and food export from Japan, Russia, England, France, Spain, Austria and Germany, were in Sicily accompanied on the tour among the citrus groves of the island by the president and by the coordinator of Gusto di Campagna, Pinella Attaguile and Mariagrazia Pavone, by some ICE officials, together with the President of the Sicilian Citrus District, Federica Argentati, and the Presidents of the Consorzi di Tutela.
The journalists were hosted in welcoming agritourism structures and in agricultural, commercial and industrial companies belonging to the Sicilian citrus supply chain, gathered since 2011 by the Sicilian citrus district, and thus met the protagonists of the supply chain to hear from their voices the history of the companies – many family-run businesses with decades of activity behind them – and the places that host them.
Attachments