a territory, a shared strategy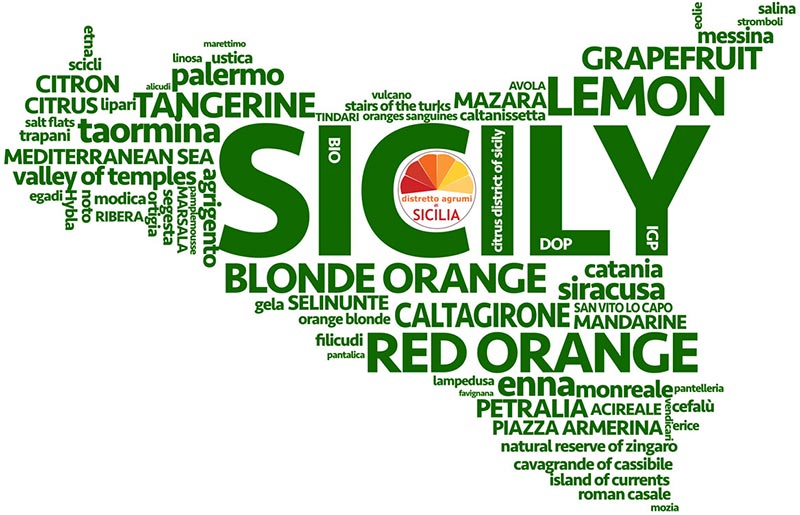 Red Orange of Sicily I.G.P.
I.G.P. (Indication Geographical Protected). The blood orange is among the first local products protected at national level.
Ribera orange D.O.P.
Consortium to ensure and distinguish the product "Ribera Orange", its characteristics, its origin with "Riberella" brand.
Lemon of Syracuse I.G.P.
Hand harvest. Mature in the Mediterranean sunshine. High quality. All juice and whole peel and cultivated only in Syracuse.
Lemon Interdonato I.G.P.
The I.G.P. It is reserved to the cultivar 'Interdonato' Messina Jonica, a typical variety grown in the Region of Sicily Ionian coast.
Late Tangerine Ciaculli
Quality crops while respecting the environment and biodiversity. Inserted between the Deans of the known foundation "Slow Food".
EU organic farming
An agricultural system that seeks to provide, to the consumer, food fresh, tasty and authentic, respecting the systems of natural life.
A District project approved by the Ministry of Agricultural, Food and Forestry Policies – MIPAAF (decree n. 93824 of 30 December 2014) for the valorization of citrus fruits and their territories.
The Citrus Production District of Sicily has involved all citrus-growing areas identified under PDO and PFI labels in considering the territory a central element for the identification of the citrus fruits commercialised under the Sicilian umbrella brand of the District, and for an integrated Relational Tourism in Sicily.
The project proposed by the District aims to enhance the market value of quality DOP, IGP and Biological citrus farming products through industrial transformation.
This objective stems from our awareness about the importance of putting in place agreements within the industry aimed to enhance the added value of raw ingredients.
The Sicily is the main agrumetata region d'Italy, 60% of the total cultivated area.
Four Sicilian citrus are brand …