Citrus growers, retailers and processors: the Sicilian citrus fruits industry describing itself and promoting its excellent PDO, PGI and BIO products in full respect of the cycles of Nature for visitors of the universal exhibition.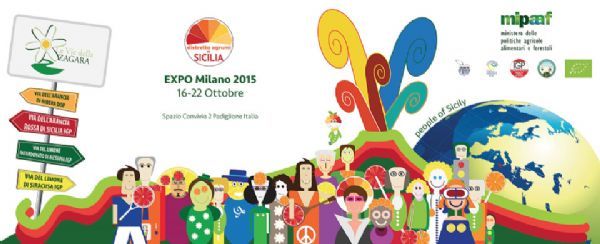 People of Sicily – Producing Sicily
The Citrus District of Sicily will bring to Milan at Expo, from October 16th to October 22nd, its "People of Sicily" – exactly that "People of Sicily" – with its empathetic smile reaction to the new District's communication campaign, one of the activities financed by Ministry of Agricultural, Food and Forestry Policies (Mipaaf) for Expo, produced in collaboration with the Region of Sicily (Department for Agriculture and Productive Activities) within a promotion project of the agricultural, fishing and food Districts.
The Convivio 2 area (located along the Cardo axe, close to the Italian Pavilion) will be marked out by an intense shadow of yellow referring to the Limoni IGP di Siracusa and Interdonato di Messina together with the Limone dell'Etna, candidate for the quality labelling system, with the Mandarino di Ciaculli (already protected by Slow Food), while the famous Arance Rosse di Sicilia di Ribera IGP and DOP will stay on Sicilian trees. They will ripen before Christmas, in order to travel, then, with lemons all over the world as ambassadors of the renowned island of the sun.
There's plenty of scheduled dates in The Citrus District of Sicily's week at Expo, some of which are organised in synergy with others Districts such as the ones of grains, confectionery, fishing, poultry, and dairy products as well as prickly pear.
The Convivio 2 area, staging a redolent garden composed by ornamental citrus fruit trees in vase, provides for convivial exhibition spaces and will work as background for several activities:
a series of speeches open to the public with citrus entrepreneurs, as well as meetings with the scientific and academic research community, international eminent foundations, publishing houses, and chefs. An experienced master chocolatier from Modica, the Sicilian capital city of the ancient Aztec tradition, will "officiate" the magic union between the "food of the Gods" and the "fruits of the sun", the collection of tissue papers of the 20th-century, that is the pictorial tribute to the fruits of the sun made by students from Barcelona.
The traveling presence typical of the The Citrus District of Sicily's is definetely an amusing gigantic Sicilian card deck, where the traditional symbols – oro, mazze, coppe e spade (swords, cups, coins and clubs) – are replaced by the four excellences PDO and PGI. The visitors will be offered some gadgets related to the topic of the "citrus playing cards".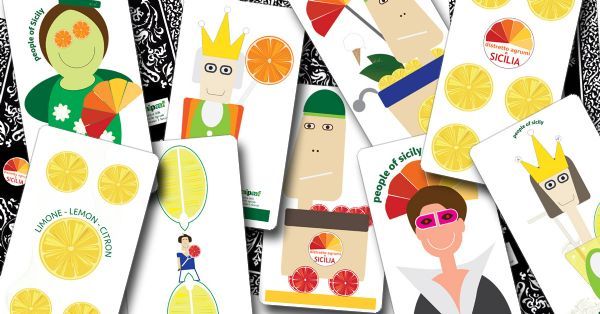 The gigantic Sicilian card deck, where the traditional symbols are replaced by the four excellences PDO and PGI